The Australian Baha'i book distribution service has teamed up with ebbf (Ethical Business Building the Future) in order to create new Baha'i-inspired social discourse-based publications. These books are available in physical copies and digitally and they range in topics from gender equality to consultation, from social innovation to sustainable development, and many other subjects in between.
It was a pleasure to hear from Daniel Truran, director of ebbf, to find out more about these books. Here's what Daniel shared with us:
Could you tell us a little bit about yourself?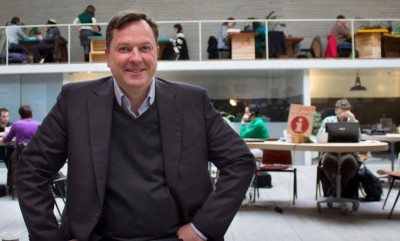 Half Italian, half English, married and living in Spain for the last 20 years with our four children, I have been serving as director general of ebbf for quite a while now. Seeing the impact that bringing together people from around the world to hold deep and meaningful conversations leading to action in their workplaces has been some of the most motivating moments of my life.
Could you please tell us a little about ebbf and the books it is now producing?
Let me start with spaces.

It might sound odd to think of books and organization as spaces but this is exactly how I see both.

I sense that in the hectic speed at which things are evolving around us and the pace of our own daily agendas, taking the luxury of creating spaces to stop and think has never been more important.

That is what ebbf does in its essence: create and offer spaces where deep conversations and learning lead to actions. Better, more values-driven and impact-making actions.

It does so by bringing to those spaces two elements:

1. Places of exploration: ways to understand how to learn from and the application of the Writings in our workplaces, to freely thinking out loud what is desirable and what might be possible.

2. The active involvement of people: intergenerational groups of individuals of all faiths, some of the most diverse yet like-minded global representatives wanting to explore new, better ways of using "work as worship."

In these spaces, participants strive to understand how Baha'i values could be of use in their workplaces, to have their work ultimately be able to contribute to a more just, sustainable and prosperous future.

The sharing of ideas, of personal experiences of what worked and what did not, of dreams, of possibilities–all of these elements is what makes ebbf spaces so rich, interesting and useful.

I see the concept of a rich and fruitful space also applying to the short publications that are now being offered to you; mindful spaces, with a similar function to the activities of ebbf.
Who is their intended audience?
The human beings that ebbf aims to serve, both with its publications and moreover with its wider activities are people of all faiths who are looking for a values-based approach that they can apply in their workplaces. As a Baha'i-inspired organization, the inspiration of all publications come from the Writings, from concepts shared by the Universal House of Justice but also from relevant external sources that explain and enhance the value of the core concepts we aim to share.

How I see these publications being used is three fold:

You can use them for a personal journey: pause, create a space to read, and open your mind to new ideas, new ways of doing things, to rethinking concepts and actions that you were attached to.

You can use them as a guide, to help you explore possible ways forward, applications of some of these concepts in your own workplace.

You can also bring these publications to open conversations in your workplace. "I just read that …" or even better "This is interesting, why don't we create a 30 minute space in our work day to read this paragraph and explore what it could mean to us in our organization?"

These books can be conversation starters that can open the opportunity for more meaningful conversations.

This is a very powerful, and all too often underused opportunity that we all have in our workplaces: starting conversations that lead to more profound understanding of who else is sharing our workplace, their aspirations, their own values.

From that connection I have witnessed the start of many transformational processes in organizations.

All too often we want to evolve companies, transition them to more purpose-driven structures but we fail to take the first step, which is connecting deeply to the human beings that surround us. Trying out, in an intelligent and wise way how to progress this fundamental element, increases our possibilities of success manifold.
How are the books selected? 
We have an ebbf learning team, which receives requests from ebbf members on topics they wish to know more about and explore, and which then collects trends and ideas and inspiration from the Writings that apply to that specific theme.

They decide the topic most useful and where they might have more insights to offer and they create these publications.
What subjects do they cover?
The themes that have been published are also influenced by the seven core values of ebbf. They are Baha'i-inspired and universal values: gender equality, sustainability, moderation, human nobility, unity, justice and service.

The most recent book is the one dedicated to consultation, written by Gary Reuche (Ukraine), as it offers both principles and very practical steps to apply consultation. So sought after and yet so complex to effectively implement in our work environments.

Purpose Beyond Profits: Towards a Spiritual Foundation for Corporate Responsibility by Marjo Lips-Wiersma (New Zealand) makes the case for purpose and spirituality to be at the centre of organization's future.

The Promise of Social Innovation by François Couillard (Canada) explores the social dimension of innovation and how impact can is increasingly used to drive forward future-thinking , adaptive organizations.

Sustainability, gender equality, the power of ethics are all topics covered in other publications that might be interesting food for thought.
What books can we look forward to seeing? What plans does EBBF have in regards to books in the future?
Why don't you suggest a theme and let's see if ebbf's learning team can come together to deliver a publication on the topic that is most relevant to you and your work now?
Thank you, Daniel, for taking the time to share this with us!
Learn more about ebbf by visiting its website. You can purchase ebbf publications form Bahaibooks.com.au.
Posted by
In her innermost heart, Sonjel is a stay-at-home parent and a bookworm with a maxed out library card but professionally she is a museologist with a background in English Literature. She currently lives on Prince Edward Island, an isle in the shape of a smile on the eastern Canadian coast. Sonjel is a writer who loves to listen to jazz when she's driving at night.
Source link